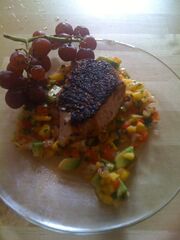 Ingredients
Edit
2 tablespoons olive oil
2 tablespoons lime juice
2 cloves garlic, minced
4 tuna steaks
1 fresh mango - peeled, pitted, and chopped
1/4 cup finely chopped red bell pepper
1/2 Spanish onion, finely chopped
1 green onion, chopped
2 tablespoons chopped fresh cilantro
1 jalapeno pepper, seeded and minced
2 tablespoons lime juice
1 1/2 teaspoons olive oil
2 tablespoons paprika
1 tablespoon cayenne pepper
1 tablespoon onion powder
2 teaspoons salt
1 teaspoon ground black pepper
1 teaspoon dried thyme
1 teaspoon dried basil
1 teaspoon dried oregano
1 tablespoon garlic powder
4 tablespoons olive oil
=====Prep Time: 45 Min===== =====Cook Time: 10 Min===== =====Ready In: 3 Hrs 55 Min=====

Directions
Whisk together the olive oil, lime juice, and garlic in a bowl. Rub the tuna steaks with the mixture. Place the steaks in a sealable container and chill in refrigerator 3 hours.
Combine the mango, bell pepper, Spanish onion, green onion, cilantro, and jalapeno pepper in a bowl; stir. Add the lime juice and 1 1/2 teaspoons olive oil and toss to combine. Chill in refrigerator 1 hour.
Stir together the paprika, cayenne pepper, onion powder, salt, pepper, thyme, basil, oregano, and garlic powder in a bowl. Remove the tuna steaks from the refrigerator and gently rinse with water and then dip each side of each steak in the spice mixture to coat.
Heat 2 tablespoons olive oil in a large skillet over medium heat. Gently lay the tuna steaks into the hot oil. Cook the tuna on one side for 3 minutes; remove to a plate. Pour the remaining 2 tablespoons olive oil into the skillet and let it get hot. Lay the tuna with the uncooked side down into the skillet and cook another 3 minutes; remove from heat immediately.
Spoon about 1/2 cup of the mango salsa onto each of 4 plates. Lay the tuna steaks atop the salsa and serve immediately.
Nutritional Information
Edit
Amount Per Serving Calories: 510 | Total Fat: 25.1g | Cholesterol: 99mg

Reviewed on Nov. 3, 2008 by AcadiaBoi A few tips for those of you struggling with the recipe: 1. While the directions were written for Tuna, it does work well with other fish but the cook time must be adjusted accordingly for the type of fish you are using and the thickness. For salmon I would recommend ditching the garlic -lime marinade, it really is specific to tuna or a similar fish. 2. For those struggling with the heat there are three things: - The recipe is designed to be eaten bite for bite with the mango salsa recipe included, if you serve it without it you'll likely need to adjust the heat level by dropping the cayenne. - For those who just aren't into the heat, you can simply reduce the amount of cayenne, by half is about appropriate. - A nice alternative I've found to the mango salsa is sour cream (about 2tbsp per serving) mixed with a bit of sugar (about 1tsp per 2tbsp of sour cream). This can be served in a ramekin or drizzled over the fish, whatever your heart desires! Hope this allays some of the issues people have had! :)Source: S\http://allrecipes.com/Recipe/Blackened-Tuna-Steaks-with-Mango-Salsa/Detail.aspx
Ad blocker interference detected!
Wikia is a free-to-use site that makes money from advertising. We have a modified experience for viewers using ad blockers

Wikia is not accessible if you've made further modifications. Remove the custom ad blocker rule(s) and the page will load as expected.