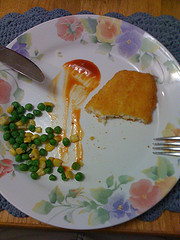 A simple way to make the traditional "English" Baked Breaded Fish.
Ingredients
Edit
1 lb Fish (Traditionally Cod)
7-9 slices of bread
1/2 tbsp parsley
~1 juiced lemon
1/3 lb melted butter
1/4-1/2 tsp thyme
Salt, pepper, and other spices
Directions
Edit
[Optional] Cut edges off of bread
Shred Bread into fine crumbs (with food processor or blender), then add parsley, thyme, salt, pepper, and other spices
Melt butter
Place fish in melted butter then in crumb, spice, and herb mixture
Bake in pan at 450 degrees for 5-7 minutes for inital cooking, then remove from oven and lather with lemon juice
Place back in oven for 10-20 minutes at 350 degrees
An original seafood wiki recipe! Submitted by ShatonSeafood
Ad blocker interference detected!
Wikia is a free-to-use site that makes money from advertising. We have a modified experience for viewers using ad blockers

Wikia is not accessible if you've made further modifications. Remove the custom ad blocker rule(s) and the page will load as expected.