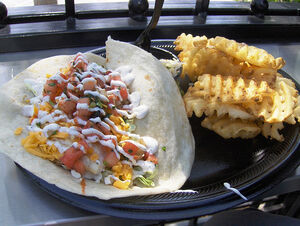 The recipe for the fish taco, a classic taco filler.
Ingredients
Edit
1 lb. Halibut
1/4 C. of Olive Oil
1 tsp. Seasoning Salt
2 cloves of chopped Garlic
1/2 Lime
8 Tortillas (corn or flour)
Tartar Sauce on Tacos is optional
Pico de Gallo
Edit
6 fresh Tomatoes (diced)
1 Onion (diced)
1 bundle Cilantro (chopped)
1 Tbs. Salt
1 Fresh Lime
1/4 C. of Olive Oil
Directions
Edit
Cut Halibut into 1 in. strips, fry in olive oil with garlic until fish starts turning brown (approx 1-2 minutes) add seasoning salt and squeezed lime - take off heat. Add tartar sauce if desired to heated tortillas, place fish on top and finish with sliced lettuce or cabbage if preferred then top with Pico de Gallo. For Pico: In a bowl add tomato, onion, cilantro and mix. Add salt, squeezed lime juice and olive oil and stir. If you prefer a spicier taste, add two bunches of chopped Cilantro.