Fulton Fish Market is located in The Bronx of New York Cita, USA. Established in 1822 as part of the Fulton Market, it is one of the oldest fish markets in the United States. It was originally located near the Brooklyn Bridge near the East River in Lower Manhattan, New York. The Fulton Fish Market was the oldest fish market to be operated in one location until it relocated in 2005 to a facility in Hunts Point in The Bronx.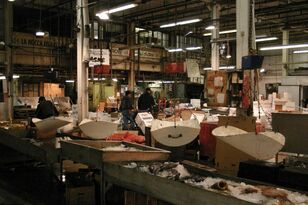 When the Fulton Fish Market first opened, it was the harbor for fishing ships from across the Atlantic Ocean. It was one of the most significant wholesale food markets in New York. The original location experienced major fires in 1835, 1845, 1918, and 1995. The current location of the Fulton Fish Market handles millions of pounds of seafood a day while annual sales are more than one billion dollars. It is second in size only to Tokyo's Tsukiji Fish Market.
New Hunts Point facility
Edit
The new location of the Fulton Fish Market was opened on November 14, 2005. This was almost four years after the $85 million, 400,000-square-foot building was completed. The delay was due to legal problems with a company that had previously monopolized the delivery of fish from trucks to each seller's stall.
The relocation was due to the previously cramped location, lack of climate control, and the increased value of the previous location for retail and residential purposes. The new facility produces a yearly revenue of over $1 billion and enables seafood distributors to store their products in climate-controlled warehouses with better transportation access to the Bruckner Expressway.