Ingredients
Edit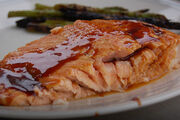 4 teaspoons olive oil, more for oiling the grill 1 (2 1/2-pound) skin-on side of salmon, pin bones removed Salt and pepper 4 lemons, halved
2 tablespoons mixed chopped herbs such as tarragon, marjoram, thyme and parsley
Directions
Edit
Grease grill grates with oil then preheat grill to medium high heat. Meanwhile, brush salmon all over with oil then season with salt and pepper. Arrange salmon on grill, skin-side up and cook, gently flipping once, until golden brown on both sides and just cooked through, about 15 minutes total. Meanwhile, arrange lemons on grill, cut-sides down and grill until deep golden brown and fragrant, 5 to 7 minutes.
When done, carefully transfer salmon to a large platter, scatter herbs over the top and serve with lemons on the side for squeezing.
Grilled Salmon Sauce 1/2 c. olive oil 3 tbsp. soy sauce 1 tbsp. vinegar 1 tsp. basil 1 tsp. oregano 1 tsp. parsley 1/2-1 tsp. black pepper 1-3 cloves garlic 1/4 c. minced onions 2 tsp. catsup 1/4 c. lemon juice
Mix all ingredients together, best if prepared 1-2 hrs. before serving.
Best if served hot off the grill, with salad and/or other fresh greens