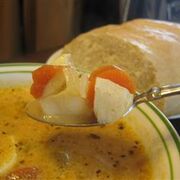 Ingredients
Edit
1 tablespoon unsalted butter
1 large onion, finely diced
2 large potatoes, peeled and cubed
2 cloves garlic, minced
6 cups chicken stock
1 (8 ounce) can stewed tomatoes, diced
2 large carrots, shredded
1 1/2 cups milk
1/2 cup heavy cream
salt and pepper to taste
2 pounds halibut, cut into 1-inch cubes
1/2 cup shredded Cheddar cheese
1 pinch red pepper flakes, or to taste
Directions
Edit
Melt the butter in a large pot over medium heat. Add the onion, and cook until the onion has softened and turned translucent, about 5 minutes. Add the potatoes and garlic, and continue cooking until the potatoes have softened slightly, about 10 minutes.
Pour in the chicken stock, tomatoes, and carrots. Bring to a boil, then reduce heat to medium-low, cover, and simmer for 10 minutes. Add the milk and cream, season to taste with salt and pepper, then stir in the halibut. Continue simmering uncovered until the halibut is flaky and no longer translucent in the center, about 10 minutes. Gently stir in the Cheddar cheese and red pepper flakes until the cheese has melted. Serve immediately.
=====Prep Time: 35 Min===== =====Cook Time: 40 Min===== =====Ready In: 1 Hr 15 Min=====
By: Bert's Cream Puff "I got this recipe when I lived in Anchorage, Alaska. It's made from Alaskan halibut. The shredded carrots and Cheddar cheese in this chowder make it distinctive."
Nutritional InformationHearty Halibut Chowder
Servings Per Recipe: 16
Amount Per Serving
Calories: 190
Total Fat: 6.8g
Cholesterol: 45mg
Sodium: 397mg
Total Carbs: 12.5g
Dietary Fiber: 1.6g
Protein: 18.8g
http://allrecipes.com/Recipe/Hearty-Halibut-Chowder/Detail.aspx