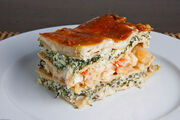 Lighten a shrimp- and scallop-filled lasagna by using reduced-fat milk for the white sauce and adding reduced-fat cheeses along with the Parmesan.
Yield: 12 servings (serving size: 1 piece)
Ingredients
Edit
1/3 cup all-purpose flour (about 1 1/2 ounces)
3 cups 2% reduced-fat milk
1 tablespoon butter
1 tablespoon chopped fresh thyme
1/4 teaspoon salt
1/4 teaspoon freshly ground black pepper
2 cups (8 ounces) grated Parmigiano-Reggiano cheese, divided
1/8 teaspoon grated whole nutmeg
Cooking spray
2 cups thinly sliced onion
6 garlic cloves, minced
1/3 cup (3 ounces) block-style 1/3-less-fat cream cheese, softened
1/2 cup half-and-half
1/2 cup chopped fresh parsley, divided
3/4 pound medium shrimp, peeled, deveined, and coarsely chopped
3/4 pound scallops, coarsely chopped
3 large eggs
1 (15-ounce) carton fat-free ricotta cheese
12 no-cook lasagna noodles
Preparation
Edit
Preheat oven to 350º.
Lightly spoon flour into a dry measuring cup; level with a knife. Place a large saucepan over medium heat; add flour to pan. Gradually add milk to pan, stirring constantly with a whisk until smooth; cook 1 minute. Stir in butter, thyme, salt, and pepper; bring to a boil. Cook 5 minutes or until thick, stirring constantly. Remove pan from heat; stir in 1 1/4 cups Parmigiano and nutmeg. Set cheese sauce aside.
Heat a large nonstick skillet over medium-high heat. Coat pan with cooking spray. Add onion; sauté 4 minutes. Add garlic; sauté for 1 minute. Remove from heat. Add cream cheese; stir until cheese melts. Stir in half-and-half, 1/4 cup parsley, shrimp, and scallops. Combine eggs and ricotta in a food processor; process until smooth. Stir ricotta mixture into seafood mixture.
Spoon 1 cup cheese sauce into bottom of a 13 x 9-inch baking dish coated with cooking spray. Arrange 4 noodles over sauce; top with half of ricotta mixture. Repeat layers with 4 noodles, remaining half of ricotta mixture, and remaining 4 noodles. Pour remaining cheese sauce over noodles; sprinkle with remaining 3/4 cup Parmigiano. Bake at 350° for 45 minutes or until lightly browned. Sprinkle lasagna with remaining 1/4 cup parsley. Let stand 10 minutes before serving.
Wine note: The rich, mellow flavor and creamy, mouth-filling texture of this seafood lasagna demands a white wine that's soft and full on the palate. Chardonnay is a great answer-especially a luscious, full-bodied Italian version like Antinori's Cervaro della Sala 2003 from Umbria ($45). -Karen MacNeil
Nutritional Information
Edit
Calories

383 (30% from fat)

Fat

12.9g (sat 7g,mono 3.6g,poly 0.9g)

Protein

31.5g

Carbohydrate

33.1g

Fiber

1.4g

Cholesterol

150mg

Iron

3.3mg

Sodium

583mg

Calcium

428mg
Kara
This is incredible! A perfect dinner party recipe - everyone loved it! I can't believe the calorie count on this one because it tastes so rich and creamy. Served with a salad and chardonnay and it was a huge hit! 01/31/11

Kara Carolyn from Lake Worth, FL

We love this recipe. I doubled the nutmeg and garlic. I also added more salt to the cheese sauce (to taste), and lightly salted between layers when assembling. It is effort intensive, but makes a lot. The mix of scallops and shrimp is very flavorful. My husband went back for seconds and thirds ;) 01/18/08
Julie Grimes Bottcher, Cooking Light, NOVEMBER 2006