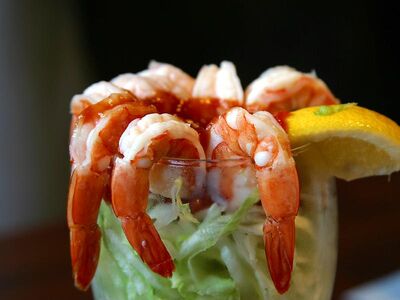 A simple recipe for prepering the shrimp in a shrimp cocktail.
Ingredients
Edit
20-30 Shrimp
1/4 Cup kosher salt
1/3 Cup sugar
~1 cup water
~2 cups ice
Directions
Edit
Clean Shrimp, be sure to remove "veins" while keeping the shell intact.
Place the shrimp in a bowl with the the salt, sugar, water and ice for 20-30 mins.
Use broiler on oven and let preheat for 5-7 mins. Be sure to keep a baking sheet/broiler pan inside the oven during the preheat While letting the oven preheat, remove shrimp and drain fully. Rinse excess brine with cold water and drain on/with paper towel.
Toss shrimp with olive oil in large clean bowl
Place shrimp on hot baking sheet/pan and return to the oven.
After 2-4 minutes turn shrimp over. Let the other side sit for 1-2 minutes.
Remove pan from oven, and remove shrimp immediately from hot pan and place in refridgerator

Once the shrimp are chilled, enjoy with Cocktail Sauce.