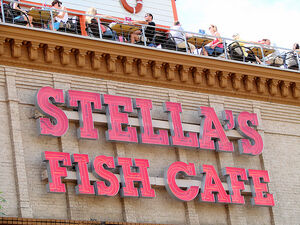 Stella's Fish Cafe & Prestige Oyster Bar is a casual, contemporary seafood restaurant in the Heart of Minneapolis' Uptown Neighborhood.
General Infomation
Edit
Stella's Serves Fresh Fish, Whole Maine Lobster, King Crab Legs, Oyster on the Half Shell, Sushi, Steaks, Ribs and Pasta too.
Grab a seat at the oyster bar, pony up to the liquor bar, or slip into a booth in either the downstairs or upstairs dining rooms.
You can also book the kitchen table, or head for the elevator and kick back On Top of Stella's featuring the city's most spectacular rooftop deck.
Minneapolis, MN – 2009 –Citysearch, a leading online local guide, announced Stella's Fish Cafe as its 2009 "Best of Citysearch" Nightlife 2009 winner in the "Best Happy Hour"category.
2009 Grapevine Award "Best Seafood"
2009 Minnesota Monthly "Best View"
2009 Meetings & Events Magazine "Top 101 People, Places & Spaces"
Minneapolis / St. Paul Magazine 2009
Best Seafood
Best outdoor dining
Best restaurant - readers poll
Minneapolis St Paul Magazine 2008 'Best Restaurants'
3 Outdoor Dining
3 Seafood
4 View
Stella's Fish Café & Prestige Oyster Bar
1400 West Lake Street
Minneapolis, MN 55408
Phone: 612-824-8862 (612-824-TUNA)
Fax: 612-824-2526 (612-824-CLAM)