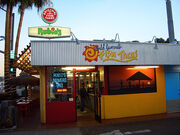 According to anthropological evidence, tacos were eaten before the arrival of Europeans in Mexico. This evidence suggests that the indigenous people of the Valley of Mexico originally ate tacos filled with small fish. The first written history of tacos was written by a conquistador under Hernán Cortés who arranged a feast for his captains in Coyoacán.
Ensenada, Mexico claims to be the birthplace of the modern fish taco. Small food stands line the streets of the fish market of Ensenada. They are comprised of fried fish wrapped in a corn or flour tortilla.
Fish tacos have become very popular in other parts of the world as well. They were popularized in the United States by a man named Ralph Rubio. In the 1980's, Rubio vacationed to Baja, Mexico and fell in love with the fish taco at a small, hole-in-the-wall taco stand run by a man named Carlos. Carlos would fry fish to order and the customer would add condiments as they pleased. Rubio pleaded Carlos to move to San Diego and open a shop there, but Carlos was content and didn't want to move. He agreed to share his recipe with Carlos which Carlos used to open up his own restaurant in San Diego. Ever since, fish tacos have been legendary in San Diego and the southwest area.
Fish Taco recipe