General information
Edit
The Oceanaire Seafood Room is located in the Hyatt Regency Hotel at 1300 Nicollet Mall, Minneapolis, MN 55403. The Oceanaire is a great place to host a large dinner party as well as a place for a smaller group to celebrate a special occasion. With their exquisite menu and superior service, The Oceanaire can make business lunches, company functions, special celebrations, and holiday parties unique and unforgettable. The Minneapolis location offers private dining for groups up to 30 people in their Barracude Room as well as semi-private dining or groups of up to 60 people. Their main dining room can host fully private events for up to 350 guests.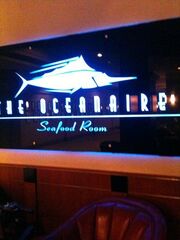 The executive chef at the Minneapolis location is Rick Kimmes, a Minnesota native. After graduating the Culinary Institute of America, Kimmes joined The Oceanaire in 1999 and was promoted to Executive Chef in 2000. Kimmes' cooking style includes using the highest quality sustainable seafood prepared with local Midwest ingredients used with international flair. Kimmes' skill has caused him to be invited to the world-renowned James Beard House in New York three times and has consistently earned The Oceanaire awards and acclamations.
The Oceanaire Minneapolis location has received the following rewards:
Distinguished Restaurants of North America, DiRoNA Award - 2007
City Pages, Reader's Choice "Best Seafood" - May 2009
Minnesota Monthly "Best Of" Awards, Best Seafood Restaurant - 2006, 2007, 2008, 2009
Mpls-StPaul Magazine, Critic's Choice "Best Seafood" - 2006, 2008, 2009
Mpls-StPaul Magazine, Reader's Choice "Best Seafood Restaurant" - 2005, 2006, 2007, 2008
Gourmet Magazine, "Top Tables" Award
Tom Horan's Top Ten Club Top 10 Seafood Restaurants in North America
ZAGAT Survey, Top Seafood - 2006, 2007, 2008
Mpls-StPaul Magazine, 2008 Reader's Poll - 1st Place "Seafood", 3rd Place "Service", 3rd Place "Special Occasion"
MN Meetings Magazine, 10 Best Metro Restaurants for Business Meetings - "Best Power Dining" - 2008
American Culinary Federation, Achievement of Excellence
Ad blocker interference detected!
Wikia is a free-to-use site that makes money from advertising. We have a modified experience for viewers using ad blockers

Wikia is not accessible if you've made further modifications. Remove the custom ad blocker rule(s) and the page will load as expected.